Cucumber Fruit extract
(Cucumis Sativus)
Found in Pure Radiance Night Cream, Vitamin C Brightening Serum, Occulift Eye Recovery Gel, Gentle Beauty Botanical Facial Cleanser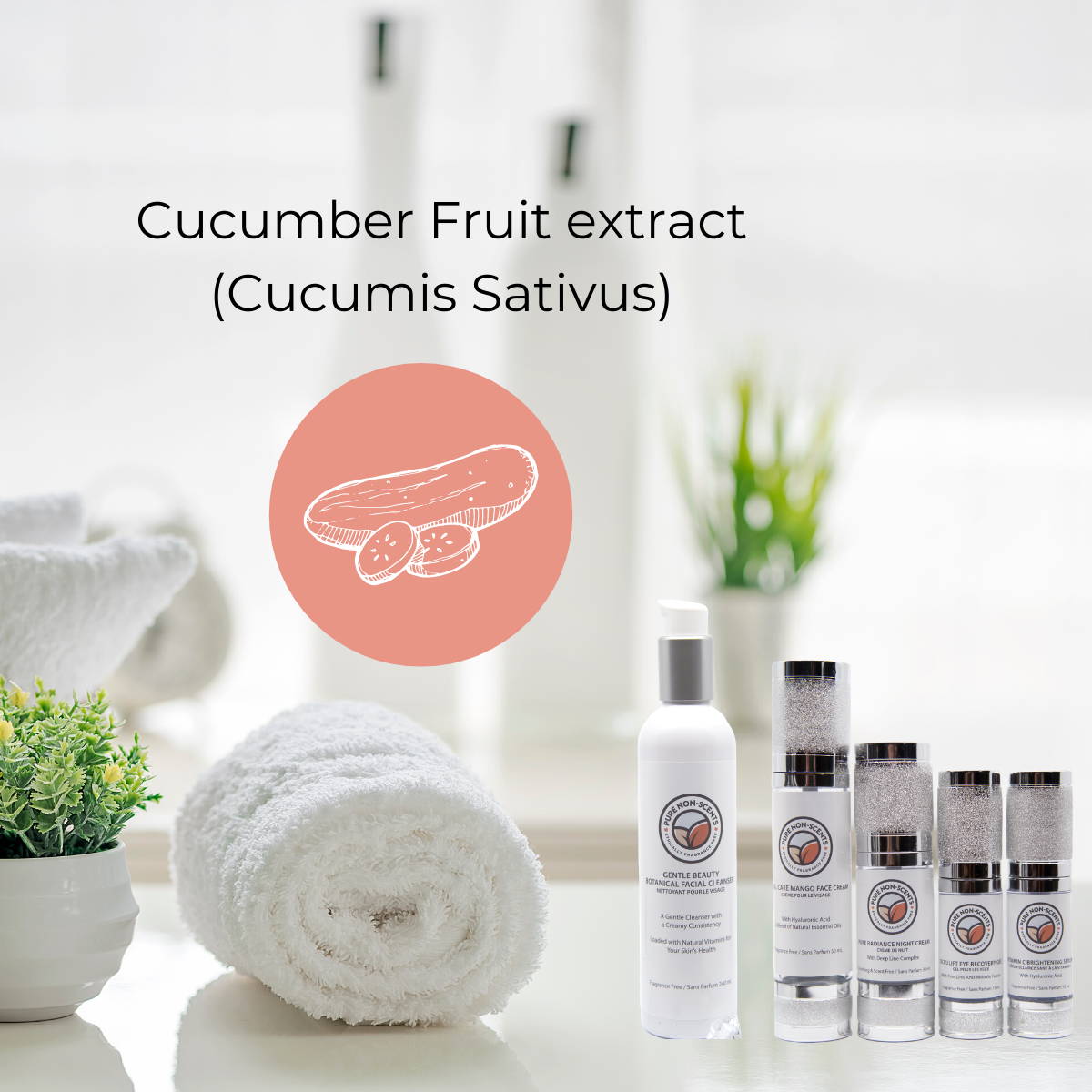 Cucumber extract is a superfood. The juice is composed largely of proteins, lipids, Vitamin C, and a variety of minerals, and possesses moisturizing and emollient properties. It also has an astringent effect, and can soothe and relieve puffy skin.
Cucumber extract has natural desquamation properties (meaning it aids in your skin's natural shedding of its outer layer during cell turnover) keeping your skin looking fresh and young. It is also an astringent (meaning it tightens and firms your skin) to revitalize it and help reduce the appearance of the physical signs of aging. Last but not least, the proteins and lipids it contains give your skin a lovely smooth feel. Cucumber extract is one of the best choices that you can make.
Ascorbic acid is a compound in Cucumber Extract, Where possible, choose Cucumber Extract over plain ascorbic acid so you can take advantage of cucumber's cooling, soothing properties.
Packed with vitamins, minerals, and antioxidants, cucumber is one of the healthiest things you can feed your skin, no matter what type of skin you have. Cucumber Extract - Non-irritating plant extract from the gourd family (think pumpkin) that's often reputed to be useful for puffy eyes. Useful in anti-inflammatory or soothing properties and suppressing melanogenesis, or the process that leads to skin discolorations.
Benefits:
-the astringent qualities firm and tighten the skin reducing the signs of aging
-has cooling, soothing properties and assists in reducing puffiness
-packed with vitamins A, B1, C, minerals and antioxidants
-can help reduce under eye dark circles
-all-natural superfood for your skin
-hydrates
-can boost collagen production and reduces fine line & wrinkles
-aids in cell turnover promoting a healthy complexion
Adriann Knight,
"I am so glad to have these products in my life. Whether or not you have sensitive skin, these are premium products that have amazing results. I have thick curly hair and after using the shampoo and conditioner my hair has less frizz and the curls are setting nicer. You can see and feel the difference of using a high quality, chemical free products."