Hemp Seed Oil
(Cannabis Sativa)
Found in Aloe Hemp Silk Conditioner, Alive Massage & Body Oil, Velvet Touch Foaming Hand & Body Wash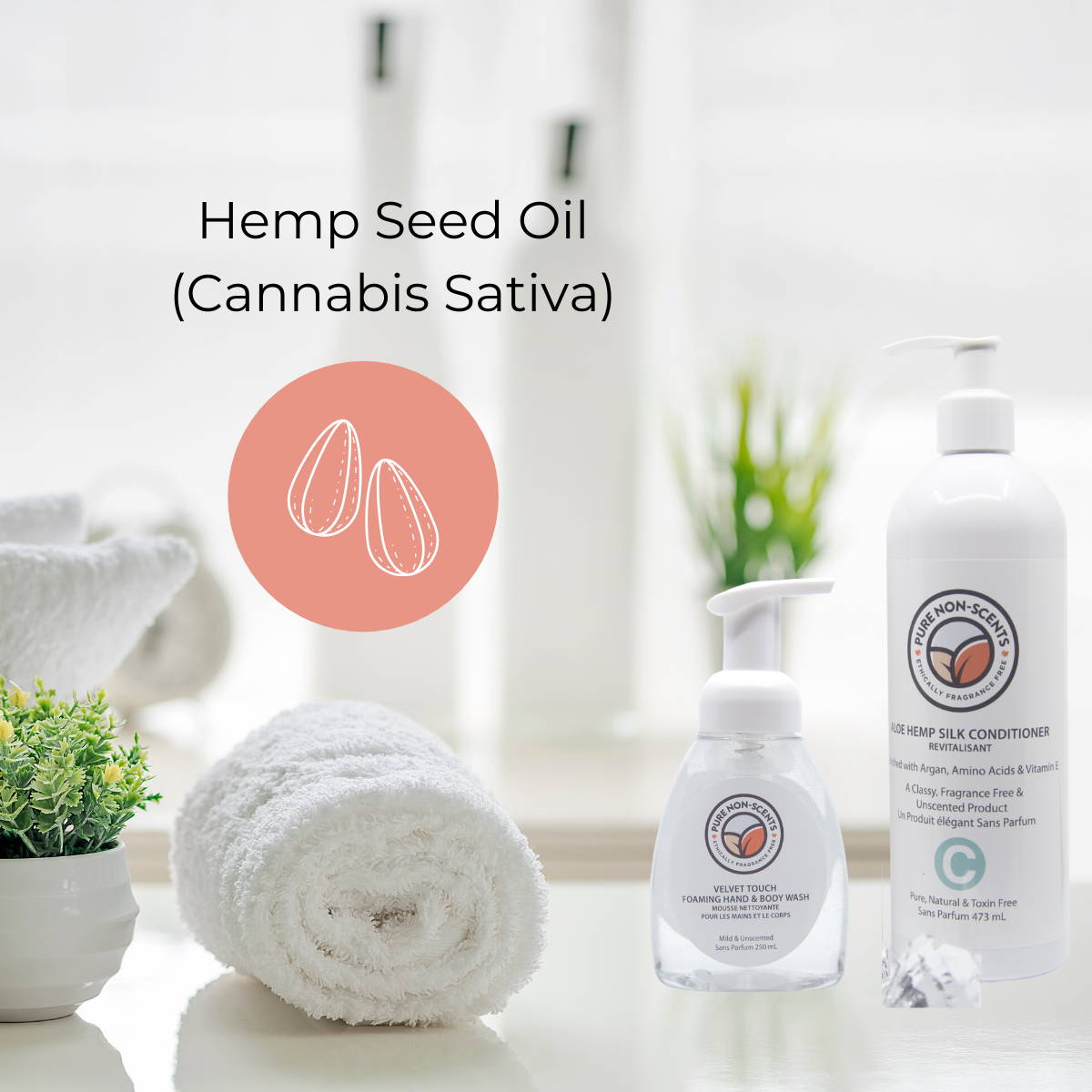 Hemp oil is made from cold pressing hemp seeds.
Benefits For skin:
- Loaded with Omega 3, Omega 6, and 9 essential fatty acids, linoleic acid that reduce inflammation.
- Full of vitamins A, C, E and minerals plays a huge help in improving aging skin. – its an anti-inflammatory that's non-comedogenic (will not clog pores) making it safe for acne-prone skin.
"The body can accumulate damage from environmental free radicals unhealthy for cell membranes. It may even help balance your skin's oil production. Hemp Seed Oil is an emollient that prevents water loss, and leaves skin feeling soft and supple. - Hemp oil prevents excessive moisture loss, drying & cracking of the skin, in addition to being a great lubricant, making for an ideal ingredient for skin care products."
Benefits For hair:
- Using Hemp Seed Oil is one of best way to achieve soft, bouncy, and thick hair that makes your hair luxurious.
- hemp oil doesn't weigh down hair.
Hemp seed oil is high in essential fatty acids as well as vitamin E and protein. A super emollient that makes the hair softer and also prevent dehydration protecting from moisture loss. This oil is effective for people with all hair types.
-enhances scalp health by minimizing irritating dry scalp and is able to hold water, most effective as a moisturizer for hair.
-the lipids, present this oil, the increase in volume, improves elasticity and shine, Softens, Strengthens and conditions your hair
- It does this by activating your hair's natural defense barrier Hair Growth Stimulator
- the most useful fatty acids present in hemp oil are omega 6, omega 9 and omega 3.
These are the polyunsaturated fatty acids which could potentially increases hair growth.
Hemp Seed oil is 25% protein, the protein is able to strengthen the hair, repair cell damage and breakage. - contains emollient action properties that keep moisture
Overall Benefits
- has anti-inflammatory benefits
- prevents dehydration & moisture loss
- found to alleviate psoriasis
- regenerates & energizes the skin's protective layers
- loaded with minerals & vitamin E antioxidants
- high in essential fatty acids improving skin & hair health
Liquid error (templates/page.gem-52474740833-template line 16): product form must be given a product
Adriann Knight,
"I am so glad to have these products in my life. Whether or not you have sensitive skin, these are premium products that have amazing results. I have thick curly hair and after using the shampoo and conditioner my hair has less frizz and the curls are setting nicer. You can see and feel the difference of using a high quality, chemical free products."