Meadowfoam Seed Oil
(Limnanthes Alba)
Found in Aloe Essence Shampoo, Aloe Hemp Silk Conditioner, Restorative Hand & Body Lotion and Alive Massage & Body Oil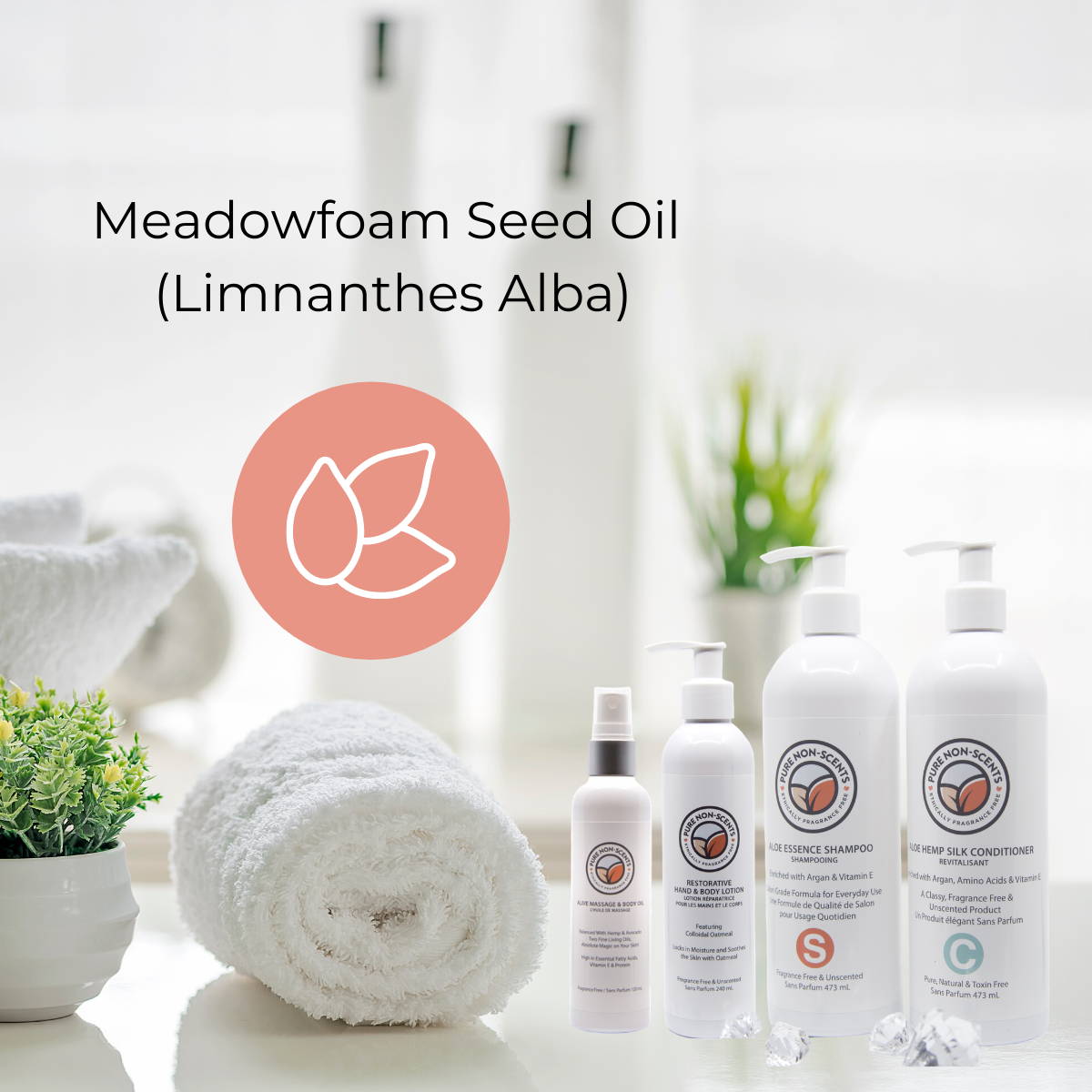 Meadowfoam seed oil is extracted through the cold-pressing of the seeds of Limnanthes alba plant -It is native in some parts of Canada (British Columbia Vancouver Island) as well as in the United States (Oregon and Northern California). The flower is yellow at the center, and the petal tips are white.
Benefits For Skin
- Tocopherol
–Vitamin E which is known to keep the skin from aging. It is also known to protect the different organs of the body or slow down its degeneration as it is also known to be an antioxidant.
- Eicosenoic Acid, This acid, along with other fatty acids, is known for its many properties. It is non-comedogenic (does not block the skin's pores), it can be readily absorbed by the skin, and it balances the oil in the skin, making it less oily.
- A natural antioxidant and excellent moisturizer with skin softening properties
- It's great at locking in moisture, leaving skin supple, glowing, and hydrated. It's an effective carrier oils as well, used in serums
- It is absorbed easily into the skin
-is very close in composition to natural sebum, and that means that it's absorbed very easily into the skin.
- contains powerful antioxidants that will fight the damage that can be caused by free radicals. This will help keep skin looking soft and smooth and help stop wrinkles and lines forming.
-, which produces an antioxidant rich oil with amazing skin softening and moisturizing properties.
- extremely stable and highly oxidative is perfectly suited to dry skin
- meadowfoam seed oil is lightweight, non-comedogenic, and sinks right into the skin. plant, which produces an antioxidant rich oil with amazing skin softening and moisturizing properties.
Ability to locks in moisture and it help other ingredients penetrate deep into the skin as well.
-contains high levels of antioxidants
- It penetrates deep down on to the skin and the antioxidants that it contains help to fight off the signs of ageing, like lines and wrinkles on the skin.
- a great natural anti-aging moisturizer. It contains tocopherol and Vitamin E, both of which are very good for nourishing and hydrating the skin.
Benefits For Hair
- Meadowfoam seed oil is great for your hair as well.
- forms a protective coating on the hair helping to retain moisture for longer.
-it is so good at hydrating hair and the scalp. The effects last a long time too, because the oil helps the hair and scalp retain moisture after you have conditioned. It is also said that meadowfoam seed could fight dandruff and prevent hair loss. - provides protection against harsh rays of the sun.
Adriann Knight,
"I am so glad to have these products in my life. Whether or not you have sensitive skin, these are premium products that have amazing results. I have thick curly hair and after using the shampoo and conditioner my hair has less frizz and the curls are setting nicer. You can see and feel the difference of using a high quality, chemical free products."