Sunflower Seed Oil
(Helianthus Annuus)
Found in Vital Care Mango Face Cream and Restorative Hand & Body Lotion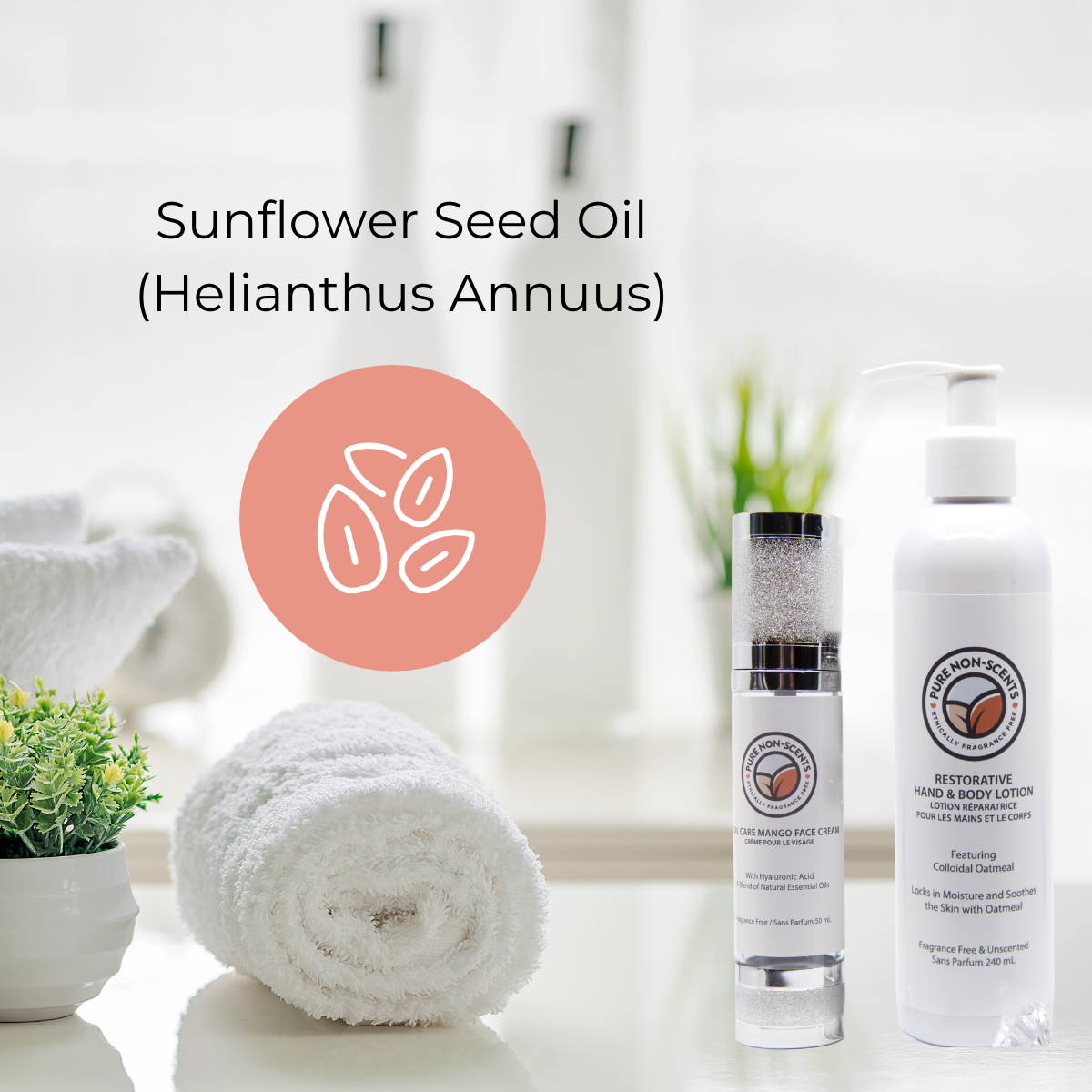 Sunflower seed oil is extremely high in vitamin E, rich in nutrients and antioxidants making it effective for combatting skincare irritants like acne and inflammation.
Sunflower seed oil is rich in beta-carotene: Beta-carotene's antioxidant properties are beneficial for the appearance of your skin and overall health.
Vitamin E in sunflower seed oil can help protect the collagen and elastin in the skin and reduce the appearance of fine lines and wrinkles in your face. The antioxidant properties help protect skin cells from harmful UV rays from the sun, other environmental stressors and the fatty acids regenerate new skin cells and help your skin rid itself of acne-causing bacteria. Sunflower seed oil is high in omega-6 (linoleic) fatty acid and vitamin E. Omega-6 acid helps decrease inflammation in the skin and enhances the development of new skin cells.
Sunflower oil has emollient properties that help the skin retain its moisture. Vitamin E helps trap moisture inside skin cells, keeping skin hydrated for a longer period making it beneficial for individuals with dehydrated or sensitive skin.
Benefits
- helps reduce signs of aging
- Sunflower seed oil is rich in beta-carotene
- beneficial for dry skin helps in soothing skin
- has emollient properties to maintain moisture
- loaded with vitamin E found to promote collagen while reducing the appearance of fine lines & wrinkles
- beneficial for individuals with sensitive or dry skin
- can reduce acne & inflammation
Adriann Knight,
"I am so glad to have these products in my life. Whether or not you have sensitive skin, these are premium products that have amazing results. I have thick curly hair and after using the shampoo and conditioner my hair has less frizz and the curls are setting nicer. You can see and feel the difference of using a high quality, chemical free products."